With Revox STUDIO ART, you have chosen a true-to-original studio sound quality. Combining high-end materials and innovative technologies, StudioArt products has achieved the highest level of audio processing precision. These speakers dynamically responds to any type of music you listen delivering rich, high-resolution sounds just like the real thing.
Active 3.1 speaker with the highest playback quality up to 192 kHz / 24 bit for an impressive music and TV / home cinema experience – even at low volume and with excellent speech reproduction. Integrated dual port bass reflex technology. Music can be streamed via WLAN, Bluetooth and AirPlay.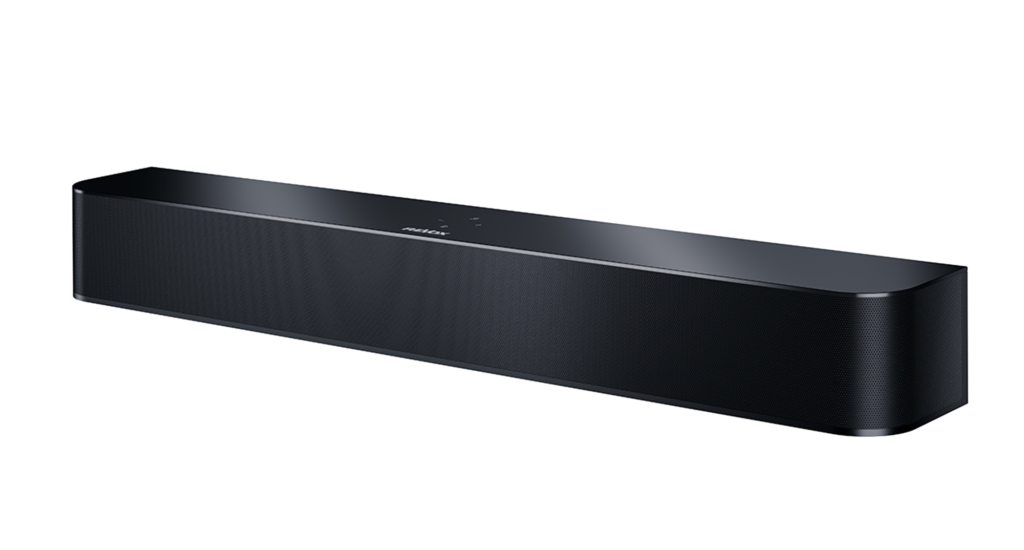 With its rechargeable battery, you can enjoy up to seven hours of music without needing to plug it in. It supports high-quality audio playback through WiFi, Bluetooth, and Apple AirPlay. Plus, it's compatible with your personal music library, as well as popular streaming services like iRadio, Spotify, Tidal, and Deezer.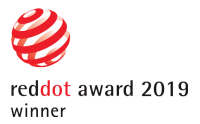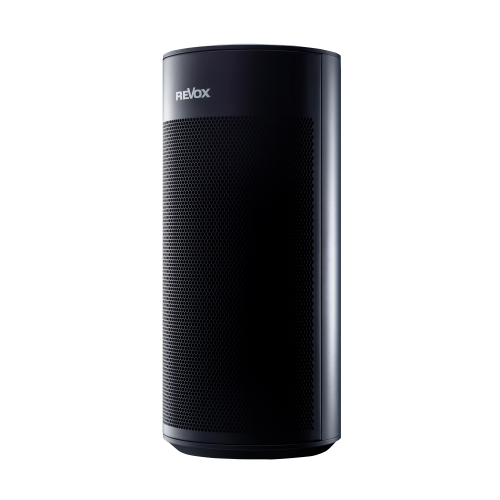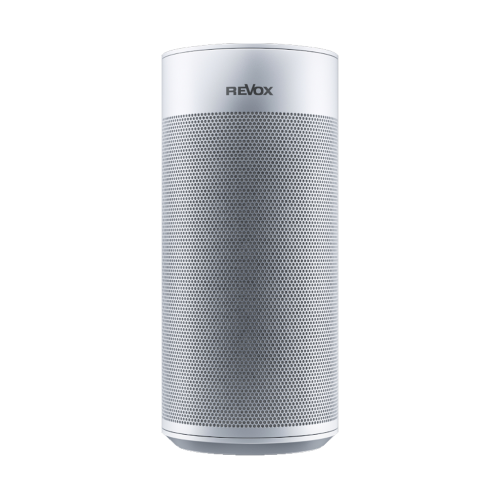 The P100 Room Speaker is the tailor-made and wired addition to the A100 active speaker (can only be used in conjunction with an A100).
The STUDIO ART Subwoofer B100 presents itself as a perfect partner to the A100 and P100, if you require even more impressive bass reproduction.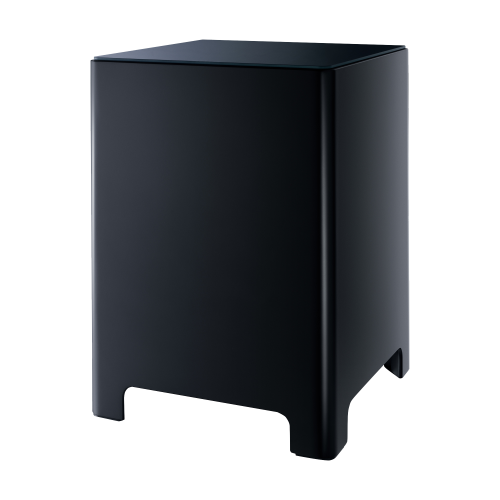 Software Update (Ver. V15)
The highlight of this update is the adjustment of the volume level in connection with S100 audiobar and A100 room speaker. The software update is uploaded to the B100 using the free Revox program (B100Updater.exe for Windows) using a USB micro cable.
All possible combinations
A Revox STUDIO ART system grows with your wishes – if you want, to every room in your home. You have a large variety of possible combinations. With the Revox STUDIO ART multiroom system , you can enjoy all integrated sources throughout the house, in the configuration of your choice and at the location of your choice. Extremely convenient for controlling your STUDIO ART system: the clearly structured and very easy-to-use Revox app (IOS or Android, free of charge in the app store).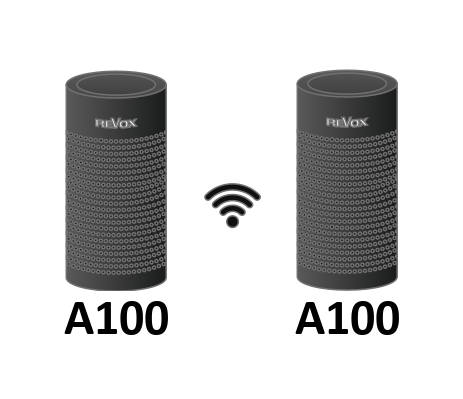 A100 for stereo via radio:
Two A100s as a wireless set for excellent stereo sound everywhere you want them.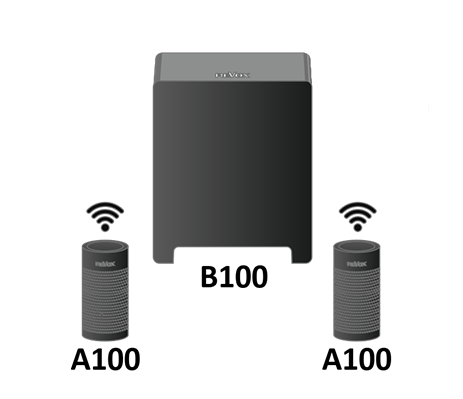 A100 with B100, wireless:
Two A100 as a stereo set with the subwoofer B100 for very impressive bass.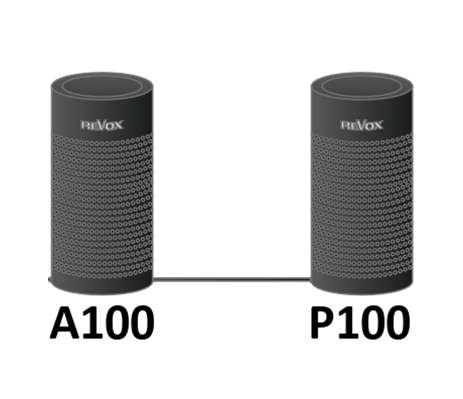 A100 in a set with P100 – connected by a loudspeaker cable as a stereo combination.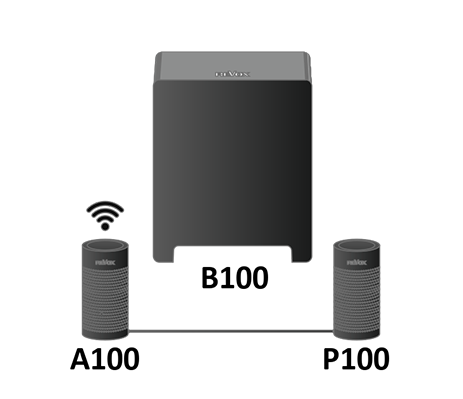 An attractive combination:
A100 with P100 plus B100: Powerful, sonorous and a very compact solution.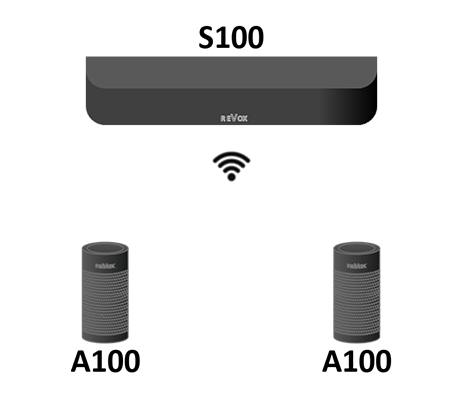 S100 and two A100 as a wireless set for excellent surround sound.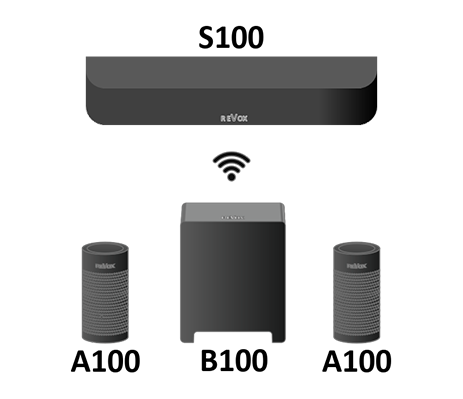 Attractive 5.1 combination:
S100 in wireless interaction with two A100 and one B100 for a very impressive 5.1 surround sound experience.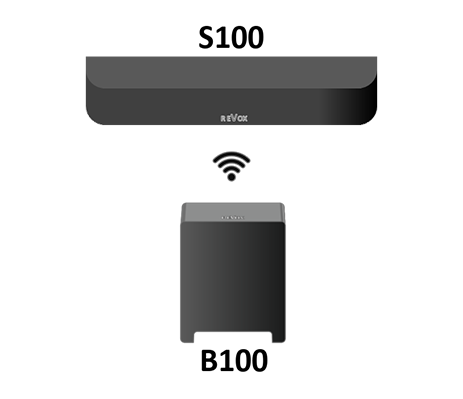 S100 with B100, wireless:
S100 and B100 as a duo for very impressive bass.